---
FROM August- Shoutout TO:
Marcus Leonard for representing Drew by hitting the Ceremonial Hope shot at the PGA tour! (see Marcus being invited here)
Zanaya Benbow, Jordan Williams-Nance, and Jayda Howard for participating in a video tribute to the Class of 2034!
CCR Team, EA staff, Mr. Spencer, and everyone that participated in the Kindergarten Walk!
Ms. Schaffer for her collaboration with coaches and colleagues to meet students' needs!
Everyone that participated in Picture Day!
Everyone who wore red on Eva Davis Day!
Ms. Richardson and the Drew team that successfully worked to submit our Charter Renewal Petition – the complete GaDOE submission is over 600 pages!
Instructional Coaches for leading sessions and providing teachers with needed resources!
Every teacher that participated in Critical Friends and provided valuable feedback and introduced authentic projects!
Ms. Williams for facilitating Critical Friends across multiple grade levels!
Ms. Duffie and Dr. Pinder for their continuous work to ensure that we are appropriately servicing and meeting the needs of our students!
Dr. Mafu for taking the time to listen to her advisee to help him navigate the Senior Academy!
Ms. Cain for helping a student deescalate themselves and talking her through making good decisions!
Jamari Aycock for finishing the (MS)2 summer, STEM program!
Senior Academy Teachers for being flexible and welcoming to all of our students fostering a nurturing and loving school culture!
Senior Academy Students that assisted by following COVID safety protocols and reminding their peers to do the same!
Ms. Weaver for all of her assistance and effort this week to ensure that we finished the week strong!
Dr. Allen for bringing some joy to the Opening Ceremony and for leading the team that planned Orientation!
CCR team for stepping in throughout the week, collaborating with the senior team, subbing in classrooms, and providing assistance and counseling where needed!
Instructional Coaches Alicia, Emily, Shameka for stepping into classrooms, facilitating lessons, and supporting teachers!
Nurse Bello for her constant communication and outreach to ensure all staff and students are provided with appropriate mitigation strategies!
Ms. Shannon for keeping staff, students, and families in mind and organizing testing for Drew staff and for families!
Mr. McKnight for his consistent leadership and voice for our students, staff, and community!
Peer leaders for holding their first session with Freshman – many students are excited about the opportunity!
Seniors who represented Drew with pride starting Early College this semester!
All of our parents that continue to support our staff including bringing King of Pops to campus!
Young Life for their support of our staff and students including partnering to ensure doughnuts were delivered to campus for staff!
Mr. Wynn for his diligence during a task/project and work over the summer to make his Personal Finance class meaningful for students!
CCR staff, Instructional Coaches, and Support Staff for assisting with class coverage!
Mr. Martin and Ms. Makiba Williams for consistently delivering lunches to all grade levels at the Yates Campus!
Terra and Sherri for their work with parents and collaboration to ensure that the Senior Academy is meeting the needs of families!
Emma Davis for teaching a concept to a student who was absent. She was on fire!
Students in Mrs. Stokes Advisory for being open, honest, positive, and an overall fun group!
Mr. Stephens' AP Comp. Sci. as well as Web development students for their work with coding and incorporation of the STEAM Learning journal!
Mr. Meneese for building relationships with students and working so well with our 11th grade students!
Mr. Kinney for stepping in to cover numerous classes (many times without being asked) throughout the first few weeks of school!
9th grade team for transitioning all students to virtual learning and back to in-person learning. This was only possible with the team's hard work and preparation early in the year!
Every teacher, counselor, and staff member that provided classroom support throughout the week!
Officer Hamm and Officer Hicks for their collaboration and support of our students and parents!
Congratulations to Sayj Harris and Jillian Loux who were among few selected to deliver a heartfelt tribute to the late Hank Aaron! (see video tribute here)
Ms. Mayes for her work and efforts to organize and select the 21-22 cheer team!
CCR team for continuing to lead programming for senior students and assist where needed!
The STEAM team, Coach Davis, Mrs. Knox, Mrs. Martinez, and everyone that stepped up and assisted with classroom facilitation/instruction!
Mr. Martin and Mrs. Makiba for their flexibility and organization to ensure that all students are provided with lunch throughout the week!
Senior Academy teachers and students for navigating virtual and concurrent instruction!
To Mr. Grant and Ms. Koraikin and the facilities team for their consistent round the clock work to ensure that we are prepared to start school!
To the tech team for all of their work to ensure students will receive their devices and be ready to go on day 1!
To the CCR team for their input, initiative, and support!
To AIS's for their continued leadership and facilitation of informative Open House sessions for parents and students!
To Ms. Luczynski for organizing Drew U and being sure that everyone was prepared!
To everyone that participated in Drew U!
To Ms. Richardson for all of her communication and assistance ensuring that families are connected!
To Ms. Mills and the counselors for all of their commitment and effort into creating final schedules for students and teachers!
To Ms. Hartigan for all of her work with enrollment!
Dailyn Minter was recognized as a POSSE scholar
Chorus and Dance held amazing virtual performances
Senior Academy's first Student Equity Committee
Senior Academy's second Lemelson MIT InvenTeam – Myah Crowell, Chanel Harris, Lilian Martin, Owen Grega, Drew Williams, Alexandria Sweeny, Dailyn Minter, Quinn Worley, Sayj Harris, Jason Lin, Zachary Harris, Alexandria Girault, Toren Mosley, Veronica Thompson, Brandon Abram, Taylor Hill, Caitlyn Smith
Senior Academy's first and Inaugural Atlanta Urban Debate Speech Bowl Champion – Kashawn Myers
Senior Academy's Literary Competition State Competitors and Champions- Kashawn Myers (4th in State), Calliope DeChant, Alexandria Girault, Kate Drueke
Senior Academy Athletic Region Champs- Basketball, Golf, Track, Soccer, Tennis
Senior Academy Athletic State Competitors- Basketball, Track, Golf, Soccer, Tennis
Senior Academy top ranked or recognized athletes – Jakobe Strozier, JaQuez Thornton, Zachary Harris, Israel Meggett, Isaiah Meggett, Eric White, Kameron Cook, Tuashawn Williams
9th– 12th Grade amazing and authentic student projects
Numerous 10th Grade students became published authors facilitated and guided by Mrs. Mayes
12th grade for their amazing perseverance, academic excellence, and high graduation rate and college acceptance
Nearly 6 million dollars in scholarships
Graduating all 97 attending Drew Seniors
Our entire school community supported the Black Lives Matter installation on the Yates Campus
Principal Coffee REMINDER:
---
If you missed the information from the last Principal's Coffee please see the slideshow below:
Recordings/Presentation/& Zoom Link Here
Typically, high school is the time when young Eagles are maturing and are prepared to fly on their own. Encourage this independent practice. They will still need the watchful eye to guide them in their development and learning. Please do so during breaks and refrain from interrupting live instruction for the benefit of the students and teachers. The slideshow will include some additional ways you can support your learner in the virtual environment.
Stay Updated! See the notes below:
#1 – Message for Early College/Dual Enrollment Students
Orientation continues this week for our Early College/Dual Enrollment students. As a reminder on Wednesdays throughout the school year seniors participating in Early College/Dual Enrollment have early release from Drew at 2:00 pm. Please email rachel.weaver@drewcharterschool.org if your student does not have permission for early release on Wednesdays. Students will check themselves out on Wednesdays moving forward.
#2- p.s. NOTE THE FOLLOWING: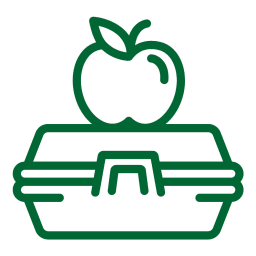 Breakfast & Lunch

All meals (breakfast and lunch) will be consumed in both indoor and outdoor spaces, with 6 feet of social distancing in place.
A pre-packaged breakfast option will be available for students.
A pre-packaged lunch option will also be available for students who don't bring their own lunch.
Drew students will practice 6 feet social distancing for eating meals at school.
Microwave ovens and refrigerators will not be available for student use.
Food deliveries for students will not be accepted. (This includes services like UberEats, GrubHub, etc.)
–K.Myers, Principal of Drew Senior Academy
Calendar of Events
Week of 09/06- 09/13
---
Monday Schedule –
---
Tuesday Schedule-
9th and 10th grade COVID Testing
1st 8:00-9:30
2nd 9:35-11:05
3rd Period 11:10 – 1:25

11:10-11:40 9th and 10th lunch
12:50-1:25 11th and 12th lunch

4th 1:30-3:00

Students stay in 4th Period for extended learning

3:05= Flex Time Extended Learning
3:35-3:55= Dismissal
Flex Time Extended Learning
---
Wednesday Schedule-
1st 8:00-9:30
2nd 9:35-11:05
3rd Period 11:10 – 1:25

11:10-11:40 9th and 10th lunch
12:50-1:25 11th and 12th lunch

4th 1:30-3:00

Students stay in 4th Period for extended learning

3:05= Flex Time Extended Learning
3:35-3:55= Dismissal
---
Thursday Schedule-
1st 8:00-9:30
2nd 9:35-11:05
3rd Period 11:10 – 1:25

11:10-11:40 9th and 10th lunch
12:50-1:25 11th and 12th lunch

4th 1:30-3:00

Students stay in 4th Period for extended learning

3:05= Flex Time Extended Learning
3:35-3:55= Dismissal
---
Friday Schedule-
8:00-9:30= 1st
9:35-11:05= 2nd
11:10 – 1:25= 3rd
11:10-11:40= 9th and 10th lunch
12:50-1:25= 11th and 12th lunch
1:30-3:00= 4th

Students stay in 4th Period for extended learning

3:05-3:35= Flex time – Advisory
3:35-3:55= Dismissal
---
09/11| Saturday
N/A

Please note access to the school building will NOT be available. Security have been advised to not allow access to outsiders until further notice [inclusive of staff].
09/12| Sunday
COVID Testing 10am – 2pm – Yates Campus (Teacher Parking Lot)
---
Upcoming Events-
9/16 
9/30 

@530 – 11 Grade/College Counseling Night

10/21

7:00 PM= HBCU Night 4th Annual Via Zoom
>> Click Link Above or Click Here <<
SA Arrival – Entry thru Cafeteria doors (Yellow & Blue) for TSMC and walk down main hallway to stairwell #2
Late Entry – At 8:30am, main entrance into building will be only entrance for late arrivals
Dismissal Waves – Please adhere to the following dismissal waves based on your students dismissal category.
3:35 Walkers to Villages of East Lake
3:40 Walkers to East Lake and Kirkwood
3:45 Car Riders
3:50 Student Drivers
---
For Updates that occur more frequently subscribe to Remind! Instructions for the respective cohorts can be found below, feel free to join multiple.
Parents are encouraged to join this platform, to receive updates for your student:
Students are encouraged to join this platform, to receive updates for daily announcements within the Senior Academy [flex time updates/ A and B day rotation, etc…:
Uniform Needs!
Guardians looking for uniform options can visit our online store with Flynn O'hara

Guardians be sure to order as soon as possible; the estimated time of delivery is typically 2-3 weeks from the day you order.
To reference the dress code for the Senior Academy, click here.
---
Dear Drew Parents/Guardians:
• The Returning to Campus Website Page offers more detailed information about what to expect, general guidelines/procedures. In addition to safety and health measures in place to protect our school community. To view, click below or directly on Drew's website: Return to Campus Webpage
---
STEAM Portfolio Information
Our campus has been certified as a STEAM School twice so far… The Elementary Academy earned this recognition in 2017 and the Junior Academy earned the recognition in 2018 from the Georgia Department of Education.
This important designation was created to recognize institutions committed to providing high-quality educational opportunities in Science, Technology, Engineering, Arts and Math. The certifications confirm Drew's position as a statewide leader in innovative education. Of course, the marathon continues- Drew's Senior Academy is also in the process of earning this certification next!
We began pre-COVID and with new systems in place the process has resumed. This section will highlight student work which will be submitted for STEAM CERTIFICATION. Please note, ALL SENIOR ACADEMY students will have a portfolio displayed for this certification, for additional support or to work with the STEAM team on this portfolio please reach out to
Portfolios Mission:
Students will have a collection of their work and thoughts that will remain in their hands throughout their life. Portfolios can be used for college entrance applications, job applications, and scholarship applications.
To view the 2021 Portfolio Tip & Kudos to add or mirror in your Portfolio: CLICK HERE
---
PTA UPDATES
The PTA Needs YOU!
This year, more than ever, Drew teachers and families need our support!
What do the PTA dues and fundraising efforts pay for (especially during the 2020-21 school year)?
Teacher Appreciation Gifts
Donations to The Opportunity Fund – which supports Drew families
Teacher and Classroom Grants – for projects enhancing student learning
Some past examples include:
Leveled library with cart to be shared across a single grade level
Class set of guitars
iPads/Chromebooks for use within a specific classroom
Beekeeping materials and bees
Drones for a robotics club
Materials and choreography for a choral performance

This support for our students, teachers and families would not be possible without your membership!
Support the Drew PTA at Amazon Smile:

click here >> https://smile.amazon.com/ch/58-2577634 << click here

Order through Amazon Smile link, and Amazon will make a donation to the Drew PTA.
Shop and Support Drew at the same time!
Shop online for anything…and 15% of your purchase goes to the Drew Charter PTA.
Includes FREE direct shipping, so it makes a great gift for loved
ones across the country!
---
Portal for Paying for Nutrition/Lunch Fees
---
Portal for Paying for Drew Events, Dues, Field Trips, etc..